Newsletter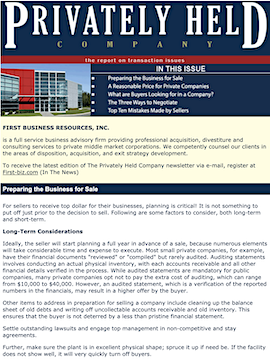 First Business Resources, Inc. is pleased to provide the complimentary Quarterly Online Newsletter to its existing clients and visitors. This enlightening information source serves to assist our clients in supplementing their knowledge of the Disposition and Acquisition process and more specifically focuses on important developments and recent topics of interest such as; exit strategy development; selling a business, and buying a business.
You are always welcome to make a return visit to the First Business Resources, Inc. website, and read the latest addition of the Online Newsletter in PDF format, or peruse our library of pre-selected Industry Articles. However by registering below to receive the Online Newsletter, you will receive next quarter's complimentary newsletter copy immediately upon its publication with delivery directly to your e-mail inbox. We believe you will discover numerous articles offering specific solutions or information to assist you in achieving your business goals and objectives.
Sign-Up for complimentary quarterly newsletters and industry articles.
You may sign-up here. A successful registration will return you to First Business Resources, Inc. At that time, you can continue browsing the web site.